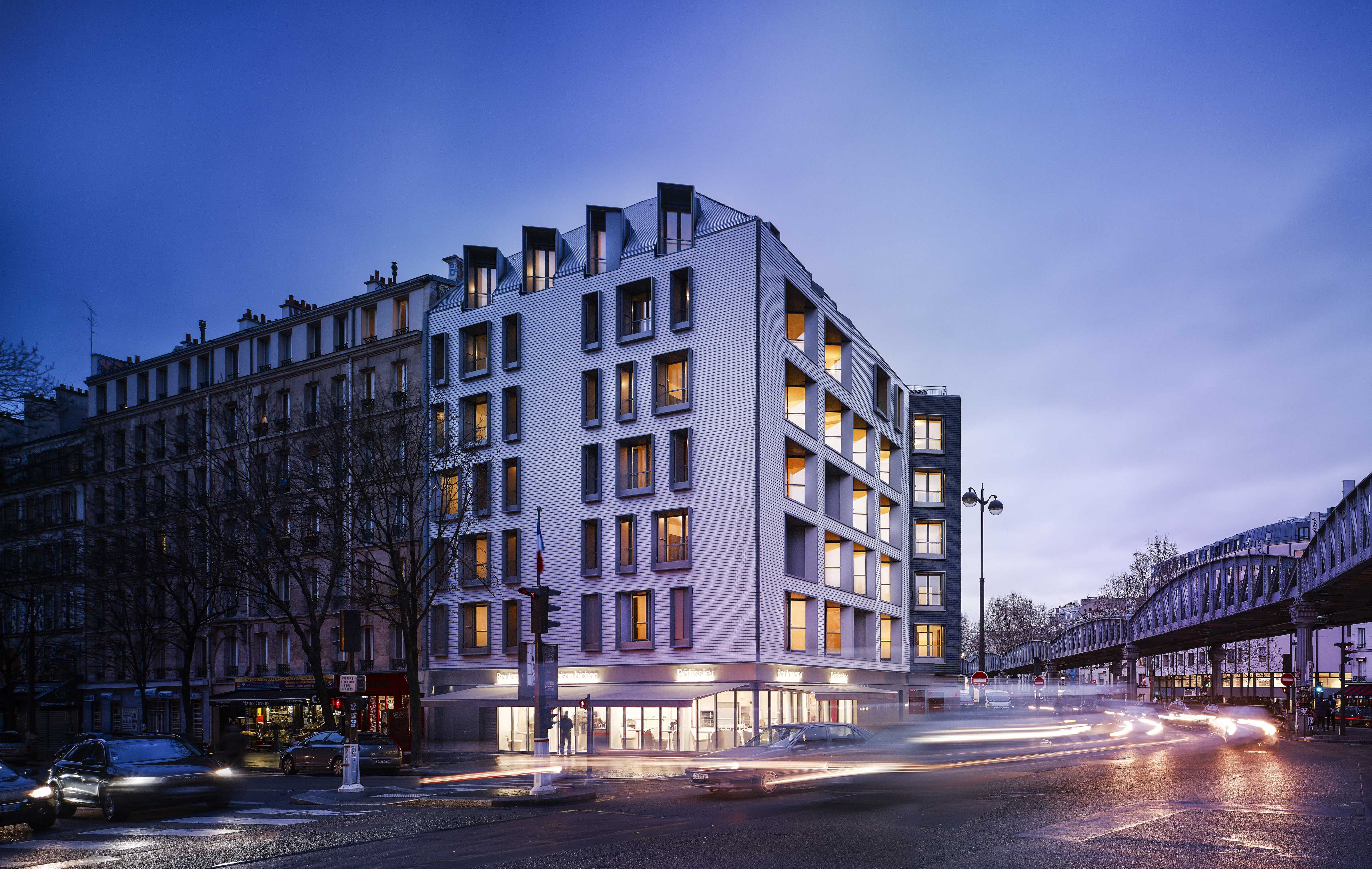 Stalingrad
How to mark the core of the Stalingrad quarter in the Paris 19th arrondissement, on the corner of rue du Faubourg Saint-Martin and boulevard de la Chapelle. Situated in a strategic location where avenue de Flandre turns into rue du Faubourg Saint-Martin, this building was built for the Siemp, social landlord involved in the reduction of insalubrity and the metamorphosis of the Parisian suburban fabric. The building takes its place in a neighbourhood in full regeneration, near the la Villette basin opposite the Rotonde de Ledoux. A key project, it marks the corner of the street with its sharp edge. The bakery on the ground floor and the 16 accommodations above it are located at the junction of urban flows: here pedestrians, cyclists, cars and overground metro pass each other, in continuous motion, which creates the whole dynamic of this plot of land that is well known among Parisians. By following the curve of the pavement, the building directs the flow in this piece of the city where the street completely belongs to its residents. The building is almost level with this highly urban environment whilst protecting the privacy of its residents with windows chiselled on the bias, which direct and frame views of the Seine and Loire quays below. The building reflects the kinetics of its neighbourhood due to its faceted geometry and its glazed tile façades. It was developed with the supplier Wienerbeger and the general construction company Tempere Construction, at the request of the Siemp, the project's contracting authority.
Stalingrad
Program: 16 social housing units and 1 shop
Area: 147 boulevard de la Villette, Paris 19.
Area: 1 500 M2.
Cost: 3,9 M euros.
Certifications: Paris Climat, BBC Effinergie, H&E profil A.
Delivery: december 2013.
Team: Siemp, Noble ingenierie, Tempere construction, Technis.